Find easy to prepare plant-based diet recipes and menus to lower cholesterol with diet – Rip Esselstyn's Engine 2 Diet.
You can check out also Dr. Esselstyn's recipes, click here → Esselstyn Plant-Based Diet Recipes – Lower Cholesterol With Diet
Plant Based Diet – Engine 2 Diet Amazing Results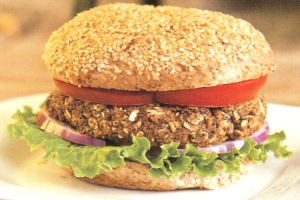 Rip Esselstyn (son of surgeon, researcher Caldwell B. Esselstyn, Jr., M.D., author of Prevent and Reverse Heart Disease), created the Engine 2 Diet.
Rip was a professional athlete and turned into a firefighter. He loves his job as a firefighter. But helping people's lives as a firefighter is not enough for him.
He yearns for more…
Rip says:
…dragging you away from your disease-promoting diet to a better way of living will have just as powerful an impact as dragging you out of fire.
The Engine 2 Diet began when Rip found out that his firefighter buddy JR had a whopping high cholesterol number: 344. Rip and his other friend Josh had decided to rescue JR through a healthy diet — plant-based diet.
At the firehouse in Austin, Texas, they started a healthy lunch wagon which is a family-style meal in which they help each other in preparing and cooking the meal, and then cleaning up. Daily they prepared plant based diet foods: wholesome sandwiches, veggie burgers, tacos and wraps with hummus and vegetables on whole wheat or corn tortillas.
Everyone who followed his plant based Engine 2 Diet lost weight, lowered their cholesterol, and improved their overall health.
When the New York Times photographer went to the firehouse to document the plant based diet and its amazing results, the firefighters made the tasty veggie burgers: New York Times Veggie Burgers, which was also featured in Vibrant Life magazine, May/June 2011 issue. Find the recipe below.
Engine 2 Diet Recipe – New York Times Veggie Burgers

Yield: 8 patties

Ingredients:

I can black beans, rinsed and drained
1 can tomatoes with zesty mild chilies, drained
1 garlic clove, minced or pressed, or 1 teaspoon garlic powder
1 teaspoon onion powder
2 green onions, chopped
1 cup carrots, chopped
1 cup parsley or cilantro
2 cups quick rolled oats
8 whole grain buns
Fresh veggie toppings and healthy condiments

Directions:

Preheat oven to 450°F.
Process the 1st seven ingredients using an immersion or regular blender or food processor. Remove contents into a large bowl, and stir in oats.
Form into patties, place on sprayed baking sheet, and bake for 8 minutes. Turn oven up to broil and cook for 2 more minutes, until the tops are nicely browned.
Toast the buns and pile on favorite toppings.

Variations:
Saute the burgers on medium heat in a sprayed nonstick skillet for 5 minutes on each side, until both sides are browned.
Engine 2 Diet Menus – Lose Weight
Women who tried the plant-based Engine 2 Diet have lost up to 26 pounds in just 28 days chowing down on yummy plant-based diet foods such as burgers, sloppy joes and chili dogs!. . . .
Plus, there's no counting calories or measuring portions…!
The following plant based diet menus, Engine 2-inspired menus, appeared in Woman's World magazine, March 16, 2009 issue.
Engine 2 Diet – Breakfast Menu Ideas

Choose one daily:

4 oz. vegetarian breakfast sausage
4 oz. frozen, fat-free hash brown potatoes
2 corn tortillas
2 tablespoons salsa

_____________________________

1 cup whole-grain cereal
1 banana
3/4 cup low-fat soy milk

_____________________________

2 slices whole-grain toast or English muffin
1 tablespoon peanut butter
1 banana

---

 

Engine 2 Diet – Lunch Menu Ideas

Choose one daily:

1/3 cup hummus, 1/2 sliced cucumber, cilantro, alfalfa sprouts, lemon juice and salt-free seasoning to taste on 2 slices whole-grain bread
1 tangerine

_____________________________

1 vegetarian hot dog topped with 1/2 cup vegetarian chili and chopped cilantro to taste on 1 whole-grain hot dog bun
1/2 cup apple sauce
1 cup belll pepper rings

_____________________________

Texas Firefighters' Favorite Plant-Based Diet Salad

1/2 head romaine lettuce, 1 cup drained mandarin oranges, 1 sliced red bell pepper, 1/4 diced avocado, 2 teaspoons chopped nuts, 2 tablespoons oil-free dressing

---

 

Engine 2 Diet Menus – Dinner Ideas

Choose one daily:

1 1/4 cups hot cooked pasta, 1 sliced tomato, 2 tablespoons pesto
1 small salad, 2 tablespoons oil-free dresssing

_____________________________

1 veggie burger, veggies and fat-free condiments to taste, 1 whole-grain bun
1 cup sweet potato slices misted with cooking spray and baked at 350°F for 35 minutes
1 pear

_____________________________

2/3 cup steamed red potatoes
1 cup celery sticks
1 serving TEXAS FIREFIGHTERS' SKINNY SLOPPY JOES recipe follows:

Yield: 4 servings

Ingredients:

1 onion, chopped
16 oz. frozen vegetarian burger crumbles
8 oz. tomato paste
1 teaspoon tamari
1 teaspoon Worcestershire sauce
1 teaspoon brown sugar
4 whole-grain buns
Onion and pickle slices to taste

Directions:

In nonstick skillet over high heat, saute onion until just translucent, about 3 minutes. Add burger crumbles and 1/8 cup water; cook for 5 minutes until heated through.
Stir in tomato paste and 1/8 cup water, stir until thoroughly mixed. Add tamari, Worcestershire sauce and sugar.
Place a generous amount of filling onto each bun. Top with sliced onions and pickles.

---

 

Engine 2 Diet – Dessert Ideas:


Choose one daily:

1 1/2 oz. dark chocolate (at least 70% cocoa)

_____________________________

1 piece fruit
6-10 nuts

_____________________________

TEXAS FIREFIGHTERS' FRUIT BOWL:

1 sliced banana and 1 cup frozen berries tossed with 2 oz. vanilla soy yogurt, 1/4 teaspoon vanilla extract, 1 teaspoon maple syrup and 1/4 teaspoon cinnamon
Amazing Cholesterol Protection: Lower Cholesterol Results
Engine 2 dieters have cut their cholesterol by up to 146 points in just 28 days.
Plus, strict vegetarians typically have a very low cholesterol, they're virtually assured of never having a heart attack!
Sources:
Vibrant Life Magazine, May/June 2011, p. 34
Woman's World Magazine, 3/16/09, PP. 18, 19
Save
Save
Save
Save
Save
Save
Save
Save
Save