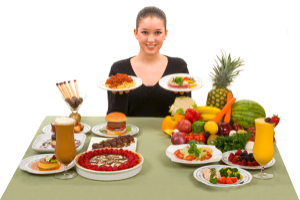 Here are some easy plant-based diet recipes samples from Dr. Caldwell B. Esselstyn's book — Prevent and Reverse Heart Disease.
Dr. Esselstyn's book is — "The book behind Bill Clinton's life-changing plant-based diet." The former president has reversed his cardiovascular disease through the help of this book.
Whole food, plant-based diet helps to lower cholesterol naturally.
These tasty dishes will help you fight off disease and feel your very best.
Note: To find more Plant-Based Diet Recipes and menus, check out Dr. Esselstyn's son, Rip Esselstyn – creator of Engine 2 Diet. Click here → Plant Based Diet Recipes and Menus – Engine2 Diet To Lower Cholesterol
The following Esselstyn plant based diet recipes were featured in Vibrant Life Magazine, May/June 2011 issue.
Tasty Plant-Based Diet – Banana French Toast

Yield: 5 servings

Ingredients:

1/2 cup oat, almond, or nonfat soymilk
1 ripe banana sliced,
1 tablespoon nutritional yeast flakes, optional
1 teaspoon vanilla extract
Pinch of ground nutmeg
5 slices whole-wheat or whole-grain bread

Directions:

Blend milk, banana, yeast flakes, vanilla extract, and nutmeg in a blender until smooth. Pour into a shallow bowl.
Dip both sides of bread in mixture.
Cook on a preheated nonstick griddle until browned on both sides. Or cook on a non-stick baking sheet in oven at 400°F, turning once until golden on both sides.

Optional:

Leave out the banana, and blend 2 tablespoons of flour with 1 full cup of oat, almond or soy milk.

Chef's tip:

Plant-based diet breakfast idea: Serve French toast with fruit, maple syrup, or sprinkled with cinnamon and powdered sugar.

---

 

Mango-Lime Salad

Yield: 2 servings

Ingredients:

1 mango, peeled and diced
1/2 red or Vidala onion, diced (add more or less, to taste
1 15-ounce can cannelilini beans, drained and rinsed
1/2 cup cilantro (add more to taste)
Juice or zest of lemon
Baby lettuce or arugula

Directions:

Combine all ingredients. Serve on a bed of lettuce.

---

 

Artichoke-Bean Dip

Yield: approximately 3 cups

1 14-ounce can artichoke hearts in water; drained and rinsed
1 15-ounce can navy or pinto beans, drained
2 tablespoons lemon juice
1 garlic clove, chopped
2 green onions, chopped

Directions:

Combine all ingredients in a food processor and process until smooth.
Serve with vegetables, crackers, bread, or cooked greens.

---

 

Green Pea Guacamole

Yield: approximately 2 cups

Ingredients:

2 cups frozen green beans
1 tablespoon plus 1 teaspoon fresh lemon juice
1/2 teaspoon minced garlic
Cilantro, a handful or more
1 small red onion, minced (1/4 cup)
1/2 cup tomato, minced
Red pepper flankes, to taste

Directions:

Put peas under warm water until softened but still cold. Drain well.
Place peas, lemon juice, garlic and cilantro in a food processor and process until very smooth. Transfer to a medium bowl.
Stir in onion, tomato, and pepper flakes. Let stand for 10 minutes. Serve within an hour or 2 to retain color.

---

 

Brazilian Black Beans Recipe

Yield: 6 servings

Ingredients:

1 large onion, chopped
Vegetable broth or water
2-4 garlic cloves, minced
1 tablespoon ginger; peeled, grated, or minced
2 15-ounce cans black beans, drained and rinsed
1 14.5-ounce cans diced tomatoes
1/8 – 1/2 teaspoon crushed red pepper flakes
Cilantro or parsley, to taste

Directions:

In a non-stick pan, stir-fry onion in a small amount of vegetable broth or water until translucent. Add garlic and ginger, and stir-fry a few additional minutes.
Add beans, tomatoes, and pepper. Simmer, stirring, 5-10 minutes, until heated.

Chef's tip:

For a quick and colorful meal, serve over brown rice surrounded by frozen peas rinsed in hot water. Or add corn, chopped bok choy, or other vegetables of your choice.

---

 

Toasted Garlic Bread

Yield: 1/2 – 3/4 cup spread; approximately 6 servings

Ingredients:

4 large elephant garlic cloves, or 2 whole heads garlic
4 – 6 tablespoons vegetable broth
2 tablespoons chopped parsley or cilantro
Whole-grain bread or buns

Directions:

Preheat oven to 400°F. Cut top off garlic, and peel off outside skin. Wrap garlic in parchment paper, sprinkle with 2 tablespoons of broth, tightly seal with foil, and roast for 45 minutes. Cool slightly.
Mash garlic in small bowl. Slowly mix in vegetable broth and chopped parsley until mixture has the consistency of softened butter.
Spread on toasted buns or bread. Optional: after spreading on garlic mixture, re-toast for a short time.

Chef's tip:

A nice bread for this easy plant-based diet recipe is Ezekiel 4:9 Sprouted Grain Burger Buns.

---

 

Grilled Pineapple

Ingredient:

1 pineapple, cored and sliced

Direction:

Peel, core, and slice pineapple. Grill in oven or outside until each slice has grill marks. Flip, and grill the other side.

---

 

Vichyssoise

Yield: 6 servings

Ingredients:

3 cups potatoes, cubed
2 cups leeks or onions, chopped
2 cups vegetable broth
1/4 cup loosely packed fresh basil (add more to taste)
1 cup oat or soy milk
Chopped chives or green onions

Directions:

In large pot, bring tomatoes, leeks, vegetable broth, and basil to a boil. Lower heat, cover and simmer 20 minutes, until potatoes and leeks are tender.
Process mixture in a blender until smooth (or use an immersion blender). Pour into a bowl and stir in milk. Serve hot, or cover and chill. Top with chives or green onions before serving.

---

 

Curried Chickpeas with Chutney

Yield: 3-4 servings

Ingredients:

1 15-ounce can chickpeas, drained and rinsed
3 medium ripe tomatoes, diced (or 2 14.5-ounce cans diced tomatoes)
2 teaspoons curry powder (add more or less, to taste)
1 8- or 9-ounce jar sweet and spicy mango chutney; or 1 fresh mango, chopped
2 cups cooked short-grain brown rice, or 1 1/4 cups cooked bulgur
Chopped cilantro, to taste

Directions:

In a saucepan, combine chickpeas, tomatoes, and curry powder. Bring to a simmer over medium heat, and cook for 3-4 minutes. Cover until ready to use.
Stir chutney or mango into cooked rice or bulgur.
Just before serving, add chopped cilantro to rice mixture. Mound rice or bulgur on each plate and top with chickpea mixture.

---

 

Fruit with Ginger

Yield: 8 servings

Ingredients:

2 Asian pears, peel and cut into bite-size pieces
1 pineapple, core and cut into bite-size pieces
1 mango, peeled and cut into bite-size pieces
1 container fresh raspberries
1 orange, peeled and sectioned, plus juice and zest
Juice and zest of 1 lime
2 tablespoons peeled, grated fresh ginger

Directions:

Combine all ingredients together and enjoy.

---

 

Roasted Pears with Maple Crunch

Ingredients:

2 pears, halved lengthwise and seeded
2 teaspoons (or less) maple syrup
1/4 cup Grape-Nuts cereal

Directions:

Preheat oven to 425°F. Fill center of pears with maple syrup, dividing evenly.
Put a small amount of water in bottom of baking pan. Add pear halves, and bake for 45 minutes.
Cover each pear half with Grape-Nuts, add a little extra maple syrup, and bake a few additional minutes.

---

 

Blueberry Passion Dessert – Plant Based Diet Recipe

Yield: 2-3 servings

Ingredients:

1/2 cup light silken tofu
1 1/2 cups frozen blueberries (8-10 ounces)
2 tablespoons sweetener (maple syrup, honey, agave nectar, or sugar)
1 teaspoon vanilla extract

Direction:

Place all ingredients in a blender and process until smooth. (It may take a few minutes, but the mixture will smooth out.)

Chef's tip:

This plant-based diet treat can be served immediately as a frozen dessert. Or you can wait until it thaws and serve it as a pudding with fresh berries on top. Try adding a few drops of peppermint extract for variety.

---

 

Berries with Lemon Whipped Topping

Ingredients:

1 12.3-ounce container light silken tofu, firm or extra-firm
2 tablespoons maple syrup
1 teaspoon vanilla extract
3 tablespoons fresh lemon juice
1/8 teaspoon lemon extract
Fresh raspberries or blueberries

Directions:

Place all ingredients in blender and process until smooth. Chill.
Serve over berries or other fruit.

Source: Vibrant Life magazine, May/June 2011 issue, pp. 31-37